Advisory Group Members & Charge
Advisory Group Members

J.J. Davis, Advisory Group Chair, UVA Executive Vice President & Chief Operating Officer
Jim Murray, Member, UVA BOV; Founder, Presidential Precinct; Managing Partner, Court Square Ventures
Danny Abramson, Member, UVAF Board of Directors; Principal, Abramson Properties
Robert Byron, Member, UVAF Board of Directors; Chairman & Co-Founder, Blue Vista Companies
Kevin Chavers, Member, UVAF Board of Directors
Harold Folley, Community Organizer, Legal Aid Justice Center; Liaison from President's Council on UVA-Community Partnerships
Lou Haddad, Member, UVA BOV; CEO/President, Armada Hoffler Properties
Alex Ikefuna, Interim Director of the Office of Community Solutions, City of Charlottesville
Jen Jacobs, Executive Director, Albemarle Housing Improvement Program
Louis Nelson, Vice Provost for Academic Outreach
Stacy Pethia, Principal Planner for Housing, Albemarle County
John Sales, Executive Director, Charlottesville Redevelopment & Housing Authority
Tim Rose, Chief Executive Officer, UVAF

Advisory Group Charge

The Affordable Housing Advisory Group ("Advisory Group") will serve as a sounding board to help advance the affordable housing work, a priority that was identified in the UVA-Community Working Group's 2019 report. The Advisory Group will provide guidance and expertise, and will review the recommendations of an internal staff work team and their consultants to then bring forward to the Executive Sponsor, President Jim Ryan, on the following: 

- Community Engagement: Work with the project consultant and internal staff work team to create effective communication with the local community, as well as with housing advocacy organizations, to ensure ample input and transparency.

- Target Population: Consider UVA's role in addressing local housing needs in a way that is complementary to, and not duplicative of, the work of existing housing organizations. 

- Development Strategy: Review and recommend proposals for an approach to support the development of approximately 1,000 to 1,500 affordable housing units over the next ten years. Consider how to partner with public/private sector entities.
UVA has established a goal to support the development of 1,000 to 1,500 affordable housing units over a decade on land in Charlottesville and/or Albemarle County that is owned by UVA or the UVA Foundation.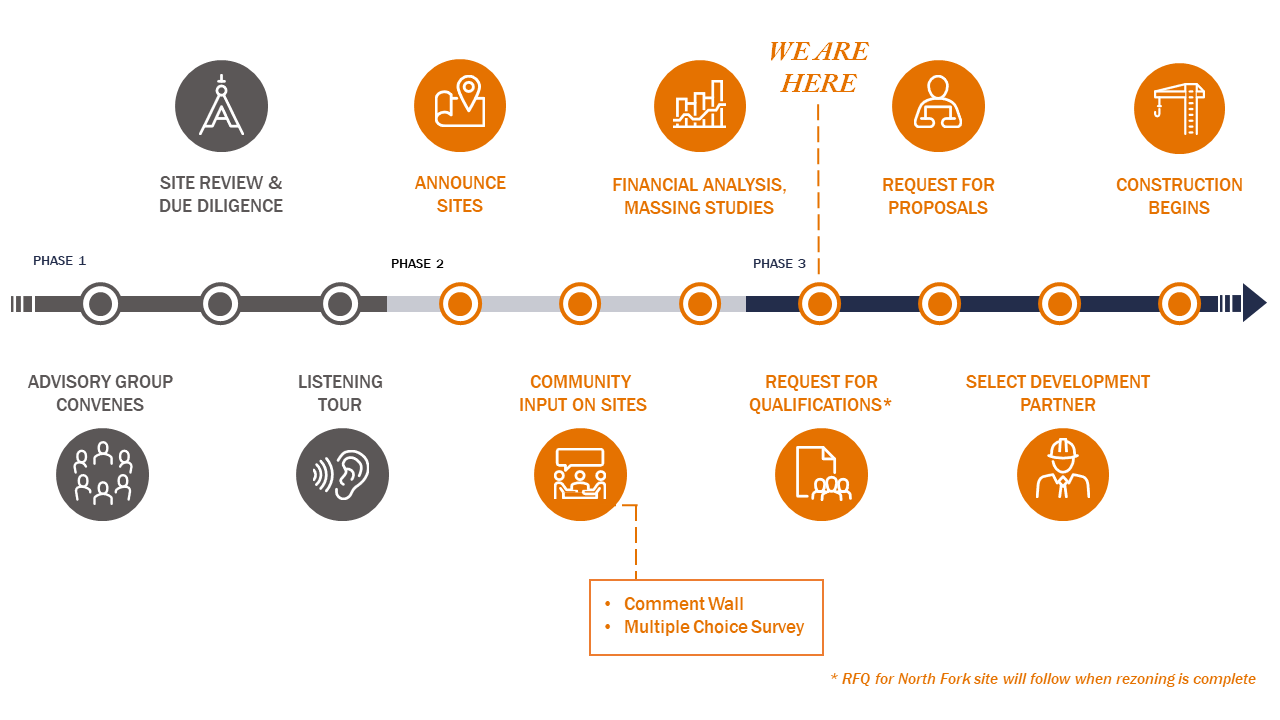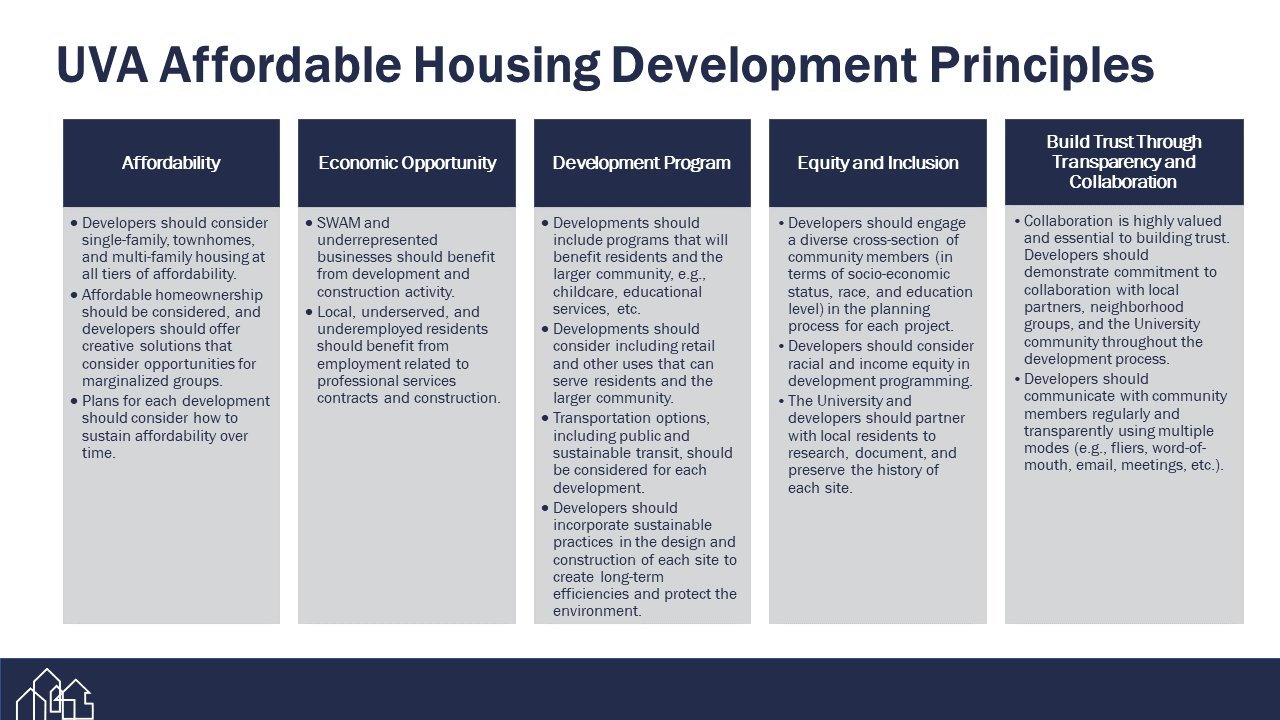 June 10, 2022
The project team incorporated feedback from members of the Advisory Group and consultants to finalize a Request for Qualifications (RFQ) for the sites at Piedmont and Wertland and 10th Streets.

The RFQ will be used to develop a short list of qualified developers in advance of issuing a Request for Proposals for these sites in the fall.

The RFQ is now available on the

University of Virginia Foundation website

. The Foundation is advertising the RFQ in publications and through professional organizations to reach a diverse group of potential development partners both within our region and across the country. The Foundation is also reaching out directly to developers that have expressed interest or have been identified by advisors.

Responses to the RFQ will be reviewed this summer with the goal of creating a short list of potential development partners to invite to respond to a Request for Proposals in the fall.

The University and UVA Foundation continue to communicate with City and County officials to keep the lines of communication open about all three sites that have been identified for housing development: Piedmont, Wertland and 10th Streets, and North Fork.

The RFQ for the North Fork site will be issued once the rezoning process – which is already in progress – for that property is completed.
On Friday, January 28, 2022, UVA Senior Vice President for Operations and State Government Relations Colette Sheehy and University Architect Alice Raucher were on Real Talk on the I Love CVille Network, discussing UVA's affordable housing initiative with hosts Keith Smith and Jerry Miller. 
Gina Merritt of Northern Real Estate Urban Ventures (NREUV) is providing strategic planning and project support services for the University's affordable housing initiative and helping identify potential development partners. Dr. Merritt and her team bring both technical expertise and significant experience engaging local communities throughout the development process.