Advisory Group Members & Charge
Advisory Group Members

J.J. Davis, Advisory Group Chair, UVA Executive Vice President & Chief Operating Officer
Jim Murray, Member, UVA BOV; Founder, Presidential Precinct; Managing Partner, Court Square Ventures; Founder, Presidential Precinct
Carlos Brown, Vice Rector, UVA BOV; Senior Vice President, General Counsel, and Chief Compliance Officer, Dominion Energy
Danny Abramson, Member, UVAF Board of Directors; Principal, Abramson Properties
Robert Byron, Member, UVAF Board of Directors; Chairman & Co-Founder, Blue Vista Companies
Kevin Chavers, Member, UVAF Board of Directors
Harold Folley, Community Organizer, Legal Aid Justice Center; Liaison from President's Council on UVA-Community Partnerships
Lou Haddad, Member, UVA BOV; CEO/President, Armada Hoffler Properties
Eddie Howard, Executive Director, Abundant Life Ministries
Alex Ikefuna, Interim Director of the Office of Community Solutions, City of Charlottesville
Jen Jacobs, Executive Director, Albemarle Housing Improvement Program
Joy Johnson, Founder and Chair, Charlottesville Public Housing Association of Residents
Louis Nelson, Vice Provost for Academic Outreach
Stacy Pethia, Principal Planner for Housing, Albemarle County
Tim Rose, Chief Executive Officer, UVAF
Susi Yu, Principal, Head of Development, MAG Partners

Advisory Group Charge

The Affordable Housing Advisory Group ("Advisory Group") will serve as a sounding board to help advance the affordable housing work, a priority that was identified in the UVA-Community Working Group's 2019 report. The Advisory Group will provide guidance and expertise, and will review the recommendations of an internal staff work team and their consultants to then bring forward to the Executive Sponsor, President Jim Ryan, on the following: 

- Community Engagement: Work with the project consultant and internal staff work team to create effective communication with the local community, as well as with housing advocacy organizations, to ensure ample input and transparency.

- Target Population: Consider UVA's role in addressing local housing needs in a way that is complementary to, and not duplicative of, the work of existing housing organizations. 

- Development Strategy: Review and recommend proposals for an approach to support the development of approximately 1,000 to 1,500 affordable housing units over the next ten years. Consider how to partner with public/private sector entities.
UVA has established a goal to support the development of 1,000 to 1,500 affordable housing units over a decade on land in Charlottesville and/or Albemarle County that is owned by UVA or the UVA Foundation.
This timeline is for the Piedmont and Wertland & 10th Street sites.
A North Fork site timeline will be provided once rezoning is complete.
All durations approximate and subject to change. Timing dependent on entitlements and tax credit availability.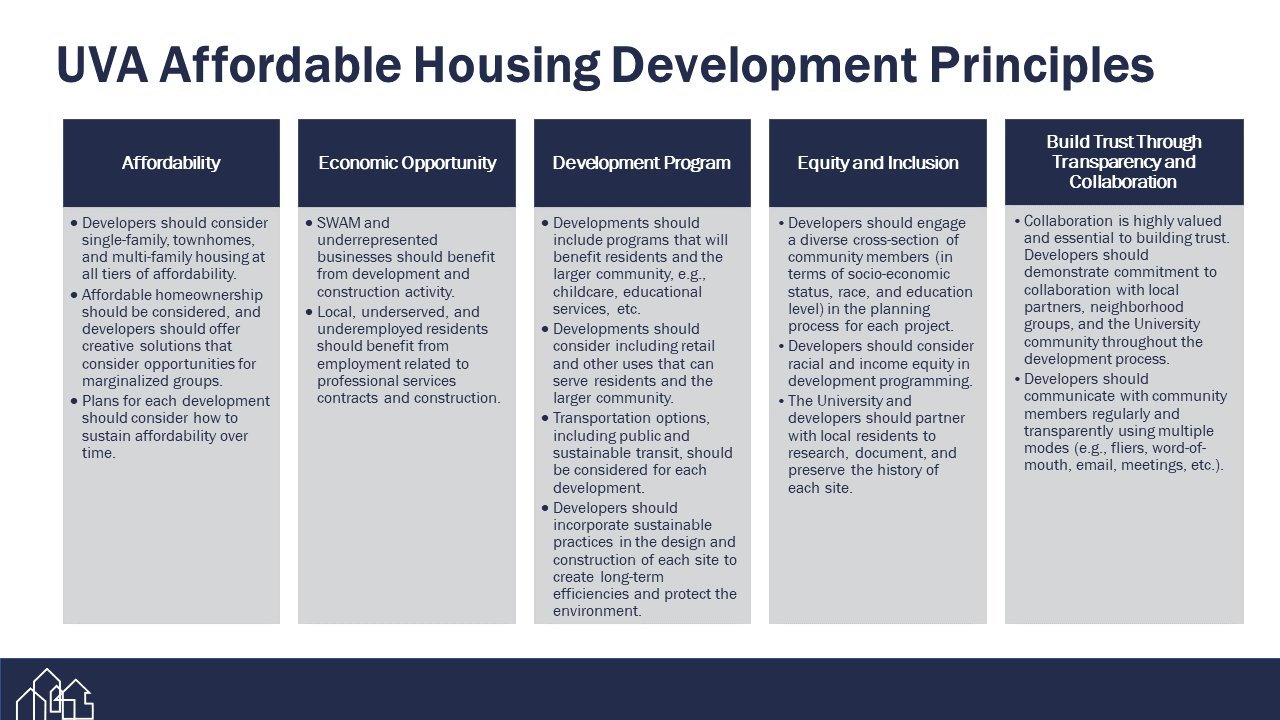 July 7, 2023
We received proposals from short-listed developers on March 21, 2023, following a formal Request for Proposals (RFP) process for the development of the Piedmont and Wertland & 10th St sites.

The developer selection process required extensive review. We thoroughly evaluated each proposal's:

Plans for short-term and long-term community engagement

Project approach including alignment with development principles shaped by the community

Financial and transaction approach including access to capital, financing creativity, and the proposed plan for achieving affordability

The Advisory Group endorsed the selection of

Piedmont Housing Alliance (PHA)

for the Piedmont site and

Preservation of Affordable Housing (POAH)

for the Wertland & 10th St site. We are negotiating partnership terms with both development teams.

The partnership terms will hold the developers accountable for creating high quality developments that will be affordable and well maintained for the long term.

Each development team will lead a robust Community Engagement process in partnership with UVA and the UVA Foundation.

The timeline for construction will depend on the rezoning process and the financing

.

Based on conversations with the developers, construction likely will not commence before 2025 at the earliest.  

Developer selection for the North Fork site will be determined once the rezoning process for that property is complete. The rezoning process is currently underway.
On Friday, January 28, 2022, UVA Senior Vice President for Operations and State Government Relations Colette Sheehy and University Architect Alice Raucher were on Real Talk on the I Love CVille Network, discussing UVA's affordable housing initiative with hosts Keith Smith and Jerry Miller. 
Gina Merritt of Northern Real Estate Urban Ventures (NREUV) is providing strategic planning and project support services for the University's affordable housing initiative and helping identify potential development partners. Dr. Merritt and her team bring both technical expertise and significant experience engaging local communities throughout the development process.